Welcome! Thank you for visiting my website all about learning calligraphy. Did you realize you can acquire this wonderful skill in the comfort of your own home, working at your own pace...
with my special,
tuition-free
homestudy course?
Greetings. I'm Jim Bennett. You might say that I "wrote the book on calligraphy!# Thousands have already taken my course,
and I would love to teach you too!

Looking for BEAUTIFUL NEW ART? Free art gifts at bennecelli.com, featuring free custom-designed digital art professionally created using your initials!


"If you can write, I guarantee I can teach you to do calligraphy!#



An Example of the Kind of Calligraphy You Might Do



Receive my FREE weekly Bible Calligraphy by e-mail!
CLICK HERE to subscribe.



Receive a free welcome gift when you subscribe!
(My calligraphic rendering of Psalm 23)


Check out my newest book Bible Calligraphy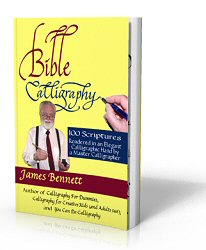 PLEASE FOLLOW ME ON SOCIAL MEDIA


Learn 4-Dimensional meditation Using Art
FREE Mindfulness Coloring Book -- PDF DOWNLOAD


Looking for BEAUTIFUL NEW ART? Look at bennecelli.com

Calligraphy lessons online by Correspondence, e-learning, distance learning
Copyright 2013-2021, Jim Bennett, Studioarts.net, Riverflow.com